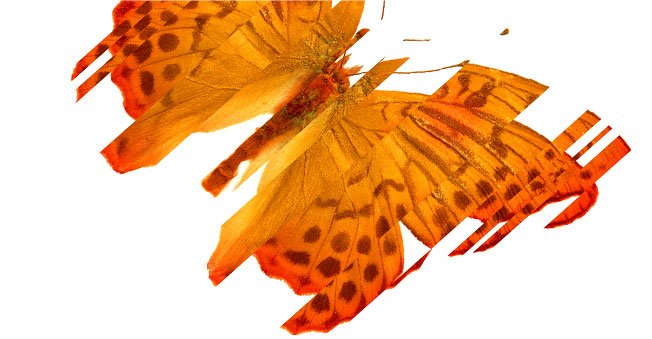 Using a Strength Based Leadership approach
Digitisation, changing customer behaviour and the uncertain political and social environments are just some of the challenges facing leaders.
In this uncertain and volatile world, leaders are increasingly under pressure to:
Innovate to keep pace with changing customer demand.
Maximise the use of technology to deliver to a faster more effective services.
Build a leadership community, drawing people from across organisations to work together more efficiently and effectively than before.
Develop outstanding leaders, from an increasing diverse population, who are aware of their key strengths and use these effectively to build a high performance culture.
Developing transformational leaders who will survive and thrive in this environment is an important job. Leaders speak of wanting the space and time to reflect and to practice how to lead diverse groups of people, engaging with them and winning hearts and minds.
Getfeedback's approach to leadership development is based on extensive research. It has been designed to help individuals understand their leadership strengths and provide a view of these strengths within the team and context in which they operate.
Our research has shown that there is no one size fits all model for an effective leader. Successful leaders differ greatly in the skills, personalities and behaviours which have set them apart and helped them to excel in their respective fields. What great leaders do have in common is self-awareness. They understand where they can best use their strengths to drive an organisation forward, know how to get the best out the people around them and, understand the needs of their followers - they truly know their strengths - and can call on the right strength at the right time.
"I've never met an effective leader who wasn't aware of his talents and working to sharpen them", Wesley Clark, former NATO Supreme Allied Commander
Focus on Strengths
At the core of Getfeedback's strengths-based leadership approach is the underlying belief that people have several times more potential for growth by building on their strengths, rather than focusing on the areas where they may not be so competent. It is the focus on individual strengths that has been the subject of many recent papers and research into great leadership and the focus of Getfeedback's strengths based leadership for transformation development programmes.
"A strengths focused leader is one who seeks greater results by ensuring that they and the people they lead are able to play to their strengths", Roarty and Toogood (2014)
Playing to strengths builds on awareness of what individuals love doing and what motivates them. Strengths based leadership draws on the findings of the "positive psychology" approach which proposes that utilising your personal strengths will result in more positivity, personal engagement, higher levels of motivation, and overall success.
Zenge and Folkman (2009) in their book The Extraordinary Leader draw on data from more than 200,000 individuals and 25,000 leaders to show how leaders can go from being good to great and average to extraordinary. They found that the worst leaders are average at everything and that if individuals focused on developing their strengths - working within the areas they excel - then when combined with the right personal characteristics they could become truly great leaders. As long as fatal flaws can be remedied then the excelling in just a small number of areas will have a disproportionate return on the perception of an individual's leadership skills.
"If you spend your life trying to be good at everything, you will never be great at anything. While our society encourages us to be well-rounded, this approach inadvertently breeds mediocrity. Perhaps the greatest misconception of all is that of the well-rounded leader." Rath and Conchie (2009)
Development Journey
Getfeedback's strengths based approach has been designed to help leaders identify and focus on deploying their strengths in order to have greater impact in driving business transformation. The approach uses a combination of assessment, facilitator led dialogue and practice and 1-2-1 coaching. The unique blend of interaction has been formulated to encourage lasting behavioural change.
Getfeedback's programme focuses on identifying and raising awareness of an individual's strengths and how to leverage these in driving transformation. The programme also looks at teams and the spread of those strengths across teams to leverage and build well rounded teams through leadership profiling.
Research has shown that leaders who leverage their strengths and the strengths of their people have more engaged and effective employees use strengths to build better rounded teams and realise a more profitable bottom line (Gallup 2002 - 2008). Trying to be good at everything and focusing on weaknesses breeds mediocrity and is ineffective. This approach is very effective when leading teams through change.
Strengths Identification
Getfeedbacks' approach to strengths identification analyses how individual behaviour, personality, ability and technical skills sit within their role and the wider business environment.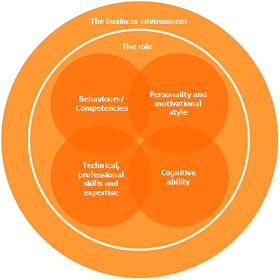 Before any strengths based intervention Getfeedback work with leaders to identify their individual strengths - this is typically undertaken through a combination of interview and a series of online questionnaires. Getfeedback utilises a range of online tools, dependent on specific client requirements and assess based on the well validated Schroder model of high performance.
An example programme overview - How does it work?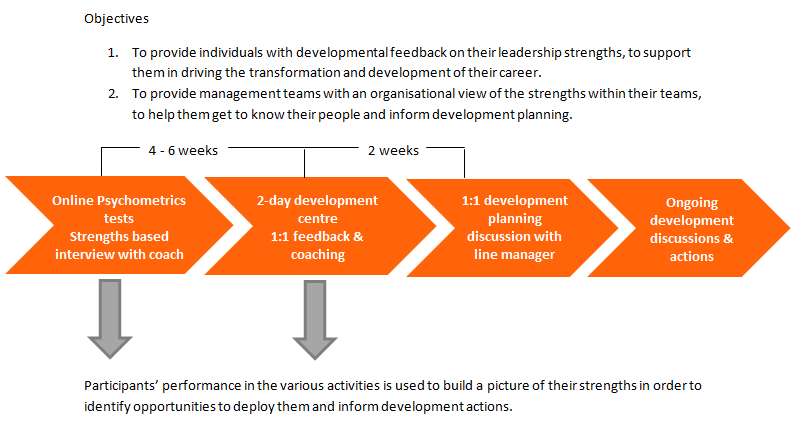 Once data has been collected, analysed and documented this information is fed back as part of a facilitator led development event where leaders are given one to one coaching feedback throughout the event to raise awareness of their strengths and they work with their coach to really leverage on their strengths and to try new skills in a safe environment.
This development event (typically 2 two days) provides individuals with an important opportunity to review several key strengths as a leader and gain input as to how to use these strengths to drive organisational objectives. The content of event typically covers a number of leadership models and techniques but also is designed to address real live business challenges currently being faced by the leadership team. Activities are designed to be challenging and engaging, while also providing delegates with development and support to really move on with their leadership capability.
Delegate Quotes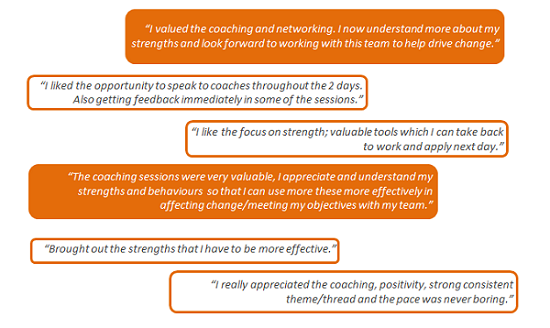 Contact us to discuss your requirements:
Getfeedback are specialists in strengths based leadership development interventions and have delivered over 50+ development events for over 500 leaders to date. A one-size-fits-all broad brush approach to leadership development is not what we do. We have firmly established and seen real return from a focus on strengths and individual differences and seen clear and measurable results in the leaders we work with. If you would be interested in discussing a bespoke approach to your leadership and organisational challenges please get in touch:
info@getfeedback.net
+44 (0) 3330902580