Abigail Clayton - March 2018
Getfeedback strongly believe that there is no one size fits all model for a perfect leader. Successful leaders differ greatly in the skills, personalities and behaviours which have set them apart and helped them to excel. What great leaders do have in common is self-awareness. They understand where they can best use their strengths to drive an organisation forward and how to get the best out the people around them to compensate for any areas in which they may be lacking.
Getfeedback's approach to leadership and management development in schools is based on extensive research. It has been designed to help individuals understand their leadership strengths and provide a view of these strengths within the team and context in which they operate. Our approach is flexible, based on the needs of each leadership team we work with. We provide a spread of different services to the schools and academies we support ranging from a single 360 for a headteacher to group leadership interventions focusing on individual development and psychometric profiling.
We work with headteachers, senior management teams and governors to allow individuals to understand where they can best use their strengths to drive their schools forward, know how to get the best out the people around them and understand the needs of their staff.
"I've never met an effective leader who wasn't aware of his talents and working to sharpen them," Wesley Clark, former NATO Supreme Allied Commander
We offer a range of interventions and tools to support leadership development in schools, our most commonly used services include:
360 Degree Feedback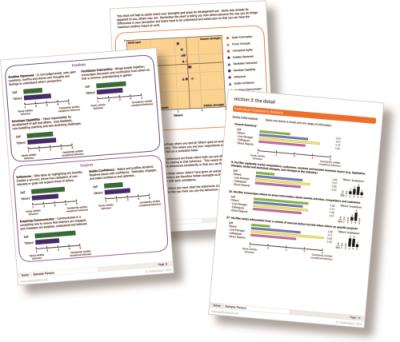 Getfeedback 360s are used by thousands of individuals each month and are built on best practice and ensuring the security and technology we employ within our system is robust and secure. A number of schools use our Educational Leader 360 as it is built on the highly validated and well respected Schroder model of high performance .It's ready to use immediately and requires no design or set up costs. Our reports have been designed to drive development, be easy to interpret and use and include data displays such as the Johari window and external benchmark comparisons.
To date we have received over 25,000 individual question responses to our Educational Leader 360 and are constantly reviewing this to ensure the accuracy and impact of this tool. Below is a summary of some of the most commonly used words in our educational leader 360 feedback.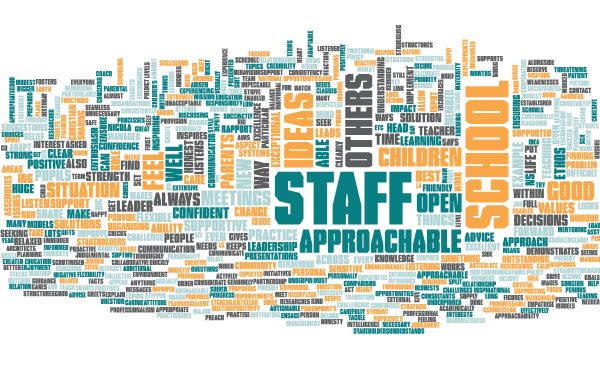 If you are considering implementing a senior management, headteacher or staff 360 feedback within your school please contact us to discuss options for implementation and feedback. We are happy to provide feedback and development support as required or just the online tool element as required to support your intervention requirements.
Further details regarding 360 and project implementation are detailed on our website
Further information on our off the shelf educational leader 360 is also available on our website.
Indeed when used in the right way 360 can provide an excellent starting point for any development conversation. As some of the feedback noted in the recently published Effectively Managing Headteacher Performance notes:
"The 360 process enabled the governors to develop a realistic and clear knowledge of the school and became part of a detailed plan for moving the school forward,"
"360 degree assessment provided honest feedback on performance of the school and of the headteacher."
Psychometrics
Getfeedback regularly use a range of personality and motivation measures to increase the self-awareness of leaders and leadership teams providing 1:1 feedback or within a group setting.
Getfeedback's assessment consultants have access to a range of tools and reports and on hand to provide guidance or support with which test to use and the interpretation of the results in relation to your needs.
For development purposes typically personality and/or motivation measures are used to allow individuals to provide a detailed understanding of individual preferences and motivation. This allows for individual development or team preferences to be identified.
Personality and Values
Online tools can measure an individual's personality traits and types and personal values. Understanding someone's personality and underlying values helps to understand how they work, what type of work they will excel in, how they will associate with their peers and manage their team. Some instruments reveal areas of strengths and some interpersonal tendencies that can cause problems. Other instruments identify the 'darker' side of our personalities, revealing how we are likely to react when we are stressed.
With different models of personality and a large number of report outputs it's important to use a test that fits your organisation and preference and provides the data in the most useful format for your needs. Getfeedback have a wide range of personality and values assessments each contain a broad range of outputs to provide the most useful information to help inform your people decisions.
Further details of all our personality psychometrics can be found on our website.
Motivation
Motivation tools provide information about the type of environment, tasks and activities that an individual will be motivated to do. Unlike personality assessments which look at what a person can do. Motivation provides insight into what an individual wants to do and what they need from a role in order to be engaged and successful. Ensuring there is a mutual match between the requirements of a role and the needs of a candidate allows for highly accurate development decisions.
Further details on our motivation psychometrics are listed on our website as well.
Senior team facilitation
Our team of experienced facilitators combine hands-on commercial experience with a solid understanding of the psychology behind organisational performance and are experts in team working and group dynamics.
We provide expert facilitation skills to deliver against a range of objectives including:
To define a vision and mission for a team
To accelerate a shared view of individual strengths and roles within a team
To build a shared understanding of the context and situation in which a team is working
To bring a renewed sense of energy and resourcefulness in order to help a team on its journey toward excellence
To share knowledge and expertise about the psychology of emotion, cognition and behaviour
Leadership Development
Getfeedback are specialists in strengths based leadership development interventions and have delivered over 50+ development events for over 500 leaders to date. A one-size-fits-all broad brush approach to leadership development is not what we do. We have firmly established and seen real return from a focus on strengths and individual differences and seen clear and measurable results in the leaders we work with. If you would be interested in discussing a bespoke approach to your leadership and organisational challenges please get in touch.
Getfeedback work with schools and educational organisations to help them get the very best from their leadership teams and staff. For an open and informed conversation about how we can support your teams development needs please get in a touch.
01491 845536 info@getfeedback.net